Technology
Dry Eye Technology: Oculus Keratograph 5M, Lipiflow, and Lumenis Intense Pulsed Light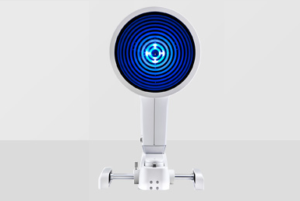 Our newest addition to our services includes advanced technology for diagnosis and treatment of dry eye. The Oculus Keratograph 5M takes images and videos of the various structures involved in dry eye. This includes the meibomian glands, non-invasive tear film break-up time, tear meniscus height measurement, and lipid layer evaluation, to name a few.
If you've been suffering from dry, watery, or red eyes or experience intermittent blur or grittiness, please talk to our staff about scheduling your dry eye evaluation. Your optometrist will screen for dryness during a comprehensive exam, and may recommend you return for this important testing. A dry eye evaluation with the Oculus Keratograph 5M is the most precise way to tailor your dry eye treatment to match your causes of dryness. Please complete this form & bring it to your evaluation.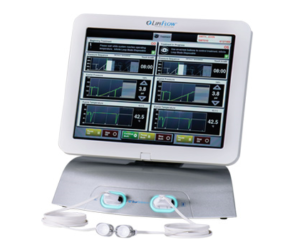 The majority of dry eye is caused by poorly functioning meibomian glands: the oil glands in the eyelid. These glands are responsible for producing the top oily coating of the tear film, which is the protective layer that keeps the middle watery layer intact. When oil production is inhibited, the watery layer of the eye surface is left exposed, resulting in symptoms including: unstable vision, watering, and discomfort. This common condition is called Meibomian Gland Dysfunction (MGD).
LipiFlow was the first electronic device cleared by the  FDA for treatment of meibomian gland dysfunction. It's safety and efficacy have been proven with clinical studies and over 25 years of research. LipiFlow uses Vectored Thermal Pulsation technology and precise heat applied to the inner eyelids with gentle massage to eliminate blockages from the meibomian glands. This goal of treatment is to restore the natural oil flow to the tear film. The in-office treatment takes 12 minutes and symptoms can improve in as little as a few weeks, with maximum benefit up to 6 months after treatment.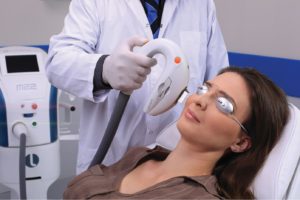 Lumenis Intense Pulsed Light (IPL) treatment uses pulses of light on the skin to stimulate the body's natural healing. It treats inflammation that threatens the eyelids and skin, while simultaneously rejuvenating the skin's appearance. It's an effective treatment for dry eye that's caused by meibomian gland dysfunction. It works by breaking the cycle of inflammation.
IPL alleviates the abnormal blood vessels that are perpetuating inflammation
IPL decreases the level of pro-inflammatory mediators and inhibits the progression of the inflammation
IPL eradicates Demodex mites that are stimulating infection and reduces bacterial load
IPL restores meibomian glands' morphology and functionality
IPL improves skin appearance, and can be targeted to treat rosacea or telangectasia
IPL treatment is safe and FDA-approved. Treatments are quick (typically 10-15 minutes) and performed in our office. Several consecutive treatments are necessary for optimum results.
iWellnessExam
Our practice is committed to protecting your eye health with the most advanced technology available, and we are excited to announced that our comprehensive eye exam now includes the iWellnessExam.
The iWellnessExam is state-of-the-art technology that lets our doctors see beneath the surface of your retina where signs of disease first appear. Traditional eye exams and retinal photography do not provide this level of detail.
The iWellnessExam is fast, easy, and comfortable for patients and gives your doctor valuable information about the health of your eyes and your most precious gift – your sight.
Spectralis OCT
In keeping up with the latest technological advances and in striving to deliver better patient care, we are very excited to offer spectral domain OCT (Optical Coherence Tomography) services to our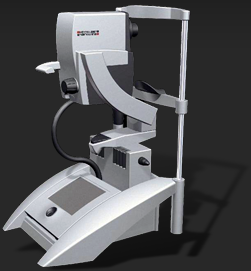 patients. The Heidelberg Spectralis OCT captures multiple cross sectional images of the retina in much the same way a CT scan does of other parts of our bodies. We utilize our OCT for a number of diagnostic reasons including quantifying nerve fiber tissue in patients with glaucoma and discovering changes in the retina that may indicate macular degeneration.
A major reason for the devastating effects of macular degeneration has been a lack of effective tools to detect the conversion from "dry" to "wet" macular degeneration. Reliance on older, outdated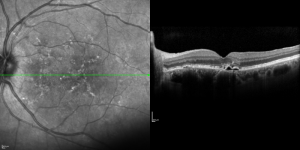 techniques often results in a diagnosis that is too late – after the disease has been wet for enough time that retinal damage and vision loss have already occurred.
Treatment for wet macular degeneration works best early on, right when the disease converts to its wet form. If you have been diagnosed with macular degeneration, call to schedule a consultation to determine if you are a candidate for testing with the Spectralis OCT.
Optomap Retinal Exam
Pontiac Family Eye Care offers the optomap® Retinal Exam as an important part of our eye exams. We recently updated our Optomap to the new California model. The updated technology offers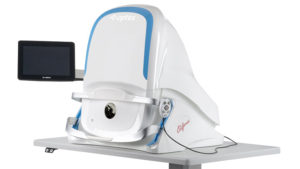 us a wide view of the retina and even better image clarity enabling us to properly identify and effectively treat more eye conditions thus promoting better ocular health for our patients.
The optomap® Retinal Exam provides us a more complete view of your retina than we can get with any other means. The retina is the part of your eye that captures the image of what you are looking at, similar to film in a camera.
The optomap® Retinal Exam is fast, easy, and comfortable for all ages. To capture an image, you simply look into the device one eye at a time and you will see a comfortable flash of light to let you know the image of your retina has been taken. The optomap® image is shown on a computer screen so we can review it with you.