What is Myopia?
Myopia, or nearsightedness, is the most common refractive condition. It affects 30-40% of the U.S. population. Myopia is a vision condition in which close objects are clear, but objects farther away are blurred.
Myopia has traditionally been corrected with standard glasses or contact lenses.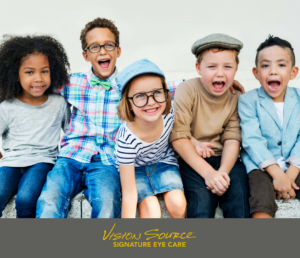 Childhood Myopia
Childhood myopia refers to nearsightedness that develops during childhood and typically progresses through adolescence and into adulthood.
Evidence shows that children who spend most of their time indoors reading, watching television or playing computer games are more susceptible to developing or worsening myopia than those who spend more time outdoors. Furthermore, there is a genetic predisposition if one or both parents are myopic.
The earlier the onset of myopia, the higher the myopia may become, thus increasing the risk for:
Retinal detachment – A condition where the inner layer of the eye detaches from the eyeball.
Cataracts – A higher chance of developing cataracts at an earlier age.
Glaucoma – Severe myopia can lead to increased fluid pressure in the eyeballs, resulting in glaucoma.
Macular degeneration – This occurs when the retina degenerates, leading to reduced vision.
Myopia Control and Treatment

Although there is no cure for myopia, your optometrist can now offer a number of treatments that may be able to slow the progression of myopia. The goal of myopia management is to improve a child's future opportunities and quality of life while minimizing risk of future eye disease.
Atropine eye drops
Atropine is an eye drop used to dilate the pupil and temporarily relax the eyes' focusing mechanism. We use a low concentration of compounded atropine (0.01%), which is shown to have less side effects and less "rebound" myopia progression after treatment is discontinued.
Multifocal contact lenses
Multifocal contacts are special lenses that have different powers in different zones of the lens.  They were created to correct presbyopia (difficulty with near vision in adults 40 and older), but are also effective tools for myopia control.
Corneal Refractive Therapy (CRT), an accelerated orthokeratology
Corneal Refractive Therapy (CRT) is the use of specially designed gas permeable contact lenses that are worn during sleep to temporarily correct nearsightedness so glasses and contact lenses aren't needed during waking hours.
The Ideal Myopia Management Candidate
Generally, myopia management is typically initiated around ages 8-12. Your eye care provider will determine if your child is a good candidate for myopia management and will help guide you to the option that is best for your child's age, prescription, and lifestyle factors. Please schedule a consultation if you are interested in pursuing treatment for your child.
Want to learn more about your options? Schedule an appointment at Pontiac Family Eye Care to see if myopia management is right for you.