Sasha L. Radford, OD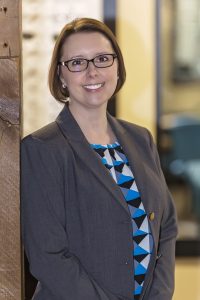 Dr. Sasha Radford has gathered her knowledge with the following achievements in education: graduated with a Bachelor of Arts in Chemistry with Honors in 1999 from the Eastern Kentucky University, graduated with a Doctorate of Optometry with Honors in 2003 from the Indiana University School of Optometry, and she became Board Certified with the American Board of Optometry in 2014. She belongs to the following associations: American Optometric Association, Illinois Optometric Association, and Bloomington Regional Optometric Society.
A Kentucky native, Dr. Sasha Radford began practicing optometry in Elizabethtown, Kentucky in 2003 and purchased her own practice in 2006. She was the managing optometrist at Dr. Sasha Radford & Associates for six years prior to joining Pontiac Family Eye Care in June 2012. During her tenure in private practice, she provided primary optometric care for patients of all ages. Through personalized and attentive patient care, Dr. Radford grew her practice into a thriving clinic.

Dr. Radford began practicing in Illinois in June 2012 when she joined Fairbury Vision Center and Pontiac Family Eye Care as an Associate. She became a partner with Dr. Bryan Stoller and Dr. Robin Coady in January 2015 with the merger of Pontiac Family Eye Care and Fairbury Vision Center.
Dr. Radford is certified in teaching English as a second language and is a volunteer tutor with the STAR Adult Literacy program, serving Livingston, McLean, DeWitt, and Logan counties. She also serves on the American Optometric Association's Commission on Paraoptometric Certification, which coordinates certification examinations for optometric paraprofessionals nationwide. Dr Radford has also volunteered with Mosaic, serving individuals with special needs as well the Livingston County Humane Society. Dr. Radford is a Rotarian and has served as Club Administrator for the Pontiac Rotary Club.
In her spare time, Dr Radford enjoys reading, gaming, and traveling. She resides in Pontiac with her husband, Darren, and their well-loved cats.