Closed for routine care until April 1st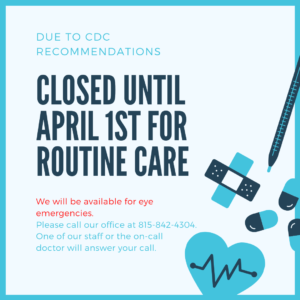 3.17.2020
Dear Patients,
Today the Centers for Disease Control (CDC) issued a statement that healthcare facilities and clinicians should prioritize urgent and emergency visits. They further requested we postpone routine eyecare visits.
In accordance with this nation-wide advice, and to do our part in preventing further spread of COVID-19, we will be closing our offices to routine visits and optical services until April 1st. Be assured our doctors will remain available for emergency cases if they occur. During this time staff will continue to answer the phones during most of our normal business hours. If you have an appointment already scheduled during the next 2 weeks, we will reach out to you to move your appointment to a later date.
Direct shipment of contact lenses will continue to be available.  For our patients who use supplements to improve their eye health, we can ship your supplements to you free of charge when you order at least 3 bottles.
We apologize for this inconvenience and we will be most excited to welcome you into our practice again just as soon as we are allowed to do so.
Sincerely,
Dr Bryan Stoller
Dr Sasha Radford
Dr Janelle Brown
Dr Terri Rieger